JoBurg, Kruger, Durban, St Lucia, Port Elizabeth.
If you're not familiar with overland tours you may want to read on, especially if you like visiting far flung locations, usually within a custom built vehicle that caters for your daily requirements. My first overland trip through South Africa was not without it's dramas, but also with the most amazing sights, scenery and company. Click here for more information on overland tours and save 5% on your first trip.
On the first day we departed Johannesburg early, arriving in Kruger National Park ready for a morning game drive the following day. Our first encounter was something special. An impassable blockade formed by seven Rhino's camped in the middle of the road.
The experience made for great viewing, as we were unable to move for more than about 15 minutes. One smaller rhino even came within touching distance of the vehicle. Clearly more inquisitive than than the rest of its crash. What was especially pleasing to see was the amount of Rhinos living peacefully in their natural environment. These animals are currently being decimated across South Africa due to illegal poaching for Rhino horn.
That was really the highlight on a very cold and often windy Kruger Park. We had some bad luck with the weather as most of the big cats were taking shelter away from the harsh conditions.
Our tour was a really well balanced trip. A good mix of activities including the game drives of Kruger National Park, Addo Elephant Park and Hluhluwe–iMfolozi Park. There was a boat cruise in St Lucia to observe Hippos bathing in and around the banks of the river. Even a stop over in the coastal city of Durban to spend a day on the beach front.
The hike up the Drakensberg mountains was spectacular as well as the views across the Blyde River Canyon (the greenest canyon in the world) and God's Window. We visited the Valley of Desolation in Graaff-Reinet towards the end of the tour as well as trips in to the landlocked countries of Eswatini (formerly Swaziland) and Lesotho, The Kingdom in the Sky. There was also a quick stop at the Nelson Mandela Capture Site in Howick, KwaZulu Natal.
So many amazing places packed in to 12 day whirlwind tour may seem exhausting and unsettling, but some of these places only require a few hours or maybe half a day of your time. Travelling on such an inclusive trip can be a great way to sit back and relax while waiting for next stop. There are some days with extremely long travel times of up to 6-8 hours.
One of those extreme drives was the trek in to Lesotho. It was slow and heavy going travelling up hill and on relatively rough terrain. On the plus side the longer journeys are a great way to catch up on any sleep lost due to the early mornings. The Game Drives for example usually start at around 5-6am, while a full day of travel may mean breakfast at 4am.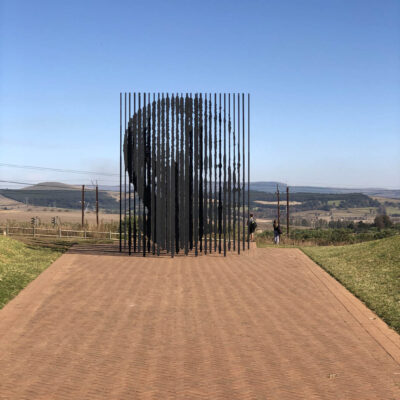 It was an amazing tour with incredible experiences and lasting memories. If you're a solo traveller you may not know anyone at the start but you'll certainly make friends by the end. Also, travelling alone is far less daunting knowing you have the support of the tour guides and the company of your fellow adventurers.